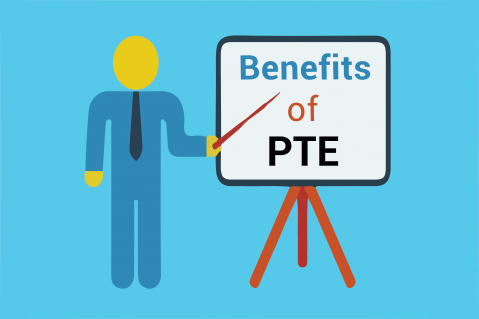 BENEFITS OF PTE
Pearson Test of English (PTE) is fast emerging as a preferred medium of proving one's English proficiency, along with TOEFL and IELTS. PTE is endorsed by GMAC- the owners of GMAT. Started in 2009, PTE is presenting itself as a viable alternative to IELTS and TOEFL. The test strives to assess students' English language skills through four modules: listening, speaking, reading and writing. PTE Academic is a computer based test of English language. The scores are valid for a period of two years.
Though IELTS and TOEFL still rule the roost, so to say, there are some specific benefits of PTE Academic which explain its increasing popularity. These benefits are:
Quick and secure: It is possible to schedule a PTE up to 24 hour before the test date. Test is conducted in a single three hour session. The major advantage of taking PTE is that results are typically available within 5 business days. PTE is as secure as it is fast. Palm vein scanning and data forensics ensures that universities have complete confidence in your scores.
Flexible: Tests are conducted virtually the whole year round at more than 200 locations worldwide. Thus, the probability of getting a test date you want at your nearest centre in quite high.
Acceptable worldwide: PTE is accepted by Australian government for visa applications. Thousands of institutions in UK, USA, Australia, Canada and Ireland accept PTE scores including the likes of Harvard, Yale and INSEAD.
Send the scores: You can send your PTE scores to as many institutions as you want without any additional cost. Also, you do not have to choose the institutions before taking the test.
No bar on number of attempts: There are no restrictions on how many times a person can take PTE. Thus, you can appear for it till the time you get satisfactory result.
Though a new entrant in the field of English proficiency tests, PTE can very soon establish itself at par with IELTS and TOEFL because of aforementioned benefits. Contact ACCT for a comprehensive and thorough preparation of PTE Academic with the help of innovative teaching methodologies and expert faculty.