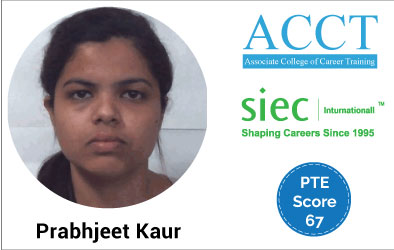 I had a very good experience learning here. The staff of ACCT-SIEC is very cooperative and friendly. They motivated me a lot to achieve my desired score. I got 67/90 as my overall score.
Probably, this is one of the best institutions in my city. I would refer other students to learn from here.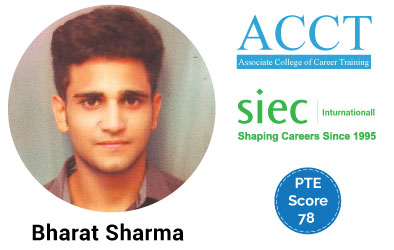 I am very much overwhelmed with the kind support I got from the teachers to clear my PTE exam with overall scores 78/90. The environment in which students study is very much friendly and stress-free. Teachers and staff is very co-operative and helps in the best way possible. Probably, this is one of the best institutes in the city and I am happy to be here.
Hi, this is Manpreet Kaur Brar. I am a Post graduate in Pediatric Nursing and with an AIM to get register with the health regulatory body of Australia. I started with PTE- Academic for which I have taken coaching from one local institute but I failed in my first attempt as the guidance I got from them was not in line with the requirement and PTE. Then my friend Navjot Suggest me to try ACCT-SIEC. My requirement was 7 each and I must say without , it would not possible. I must appreciate the hard work and passion of the faculty of ACCT-SIEC. Every time I was encouraged to do best and feel motivated. They have the best teachers. What I got is really precious for me and this is just because of them.
Hi, I am Inderpreet Singh. I just got my desired score of 8 each. I came to ACCT in just in pace and there were a few points that I was not clear of and everyone helped me a lot in this. I had given PTE four to five times, but every time when I gave my exam I missed out with either one or two marks for eight each. After coming back to ACCT I mean everyone helped me analyzing few tricks that I was not aware of that helped me a lot and I would highly recommend ACCT for PTE.
My name is Jashjeet Singh. I did my PTE from ACCT Ludhiana. It was a great experience as I did IELTS and score was 5.5 bands only so I came here and took the coaching and I have scored 67 that is equal to 7 bands. I am thankful to ACCT and overall it was a great experience.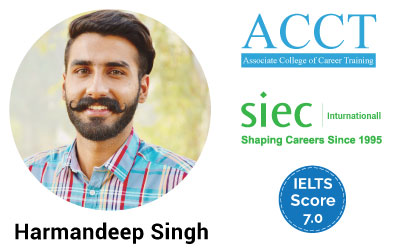 It has been a great experience learning here. Staff is very much co-operative here and everyone deals in a friendly manner. I am thankful to all the staff who motivated me to score high. I scored 7 bands due to their wonderful teaching techniques. The staff is really hard-working and I would refer other students also learn from here. Thanks to their kind and polite behavior.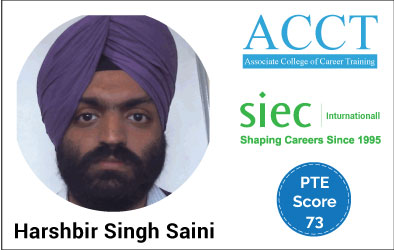 It's delightful to be a part of ACCT-SIEC with the staff members, their competency is commendable. The ease with the motional and knowledge I admire a lot. I had a great time in the training sessions. The practice materials were quite helpful and I would recommend most of my friends to get trained and excel in their careers only through ACCT-SIEC's encouragement plus support.
I would like to thank SIEC -ACCT for their support. It started from my visa application in 2014 and now after 2.5 years through their support, I am able to score 84 points in all modules for PTE exam. I had already given 6 attempts before coming here but could not achieve. A huge thanks to SIEC -ACCT for helping me get the required score.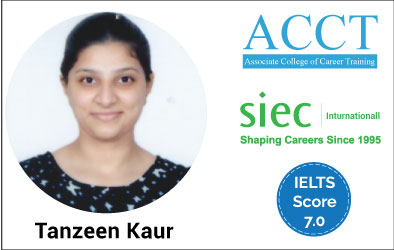 I Tanzen Kaur joined ACCT for IELTS and had a very great experience studying here. The staff here is really co-operative and teachers are really nice. I scored more than my expectations, as I got really good guidance here. Thanks to all the faculty members.
Hi, My name is Rohit Dhingra and I have scored 83 in PTE ie equivalent to 8.5 in IELTS and all my individual scores are above 8. Thanks to ACCT, all the faculties and teachers of the institute who provided such a beautiful and cooperative atmosphere. A wonderful knowledge was imparted to me due to which I am able to score this much in PTE. So please join ACCT to have a good learning experience and success.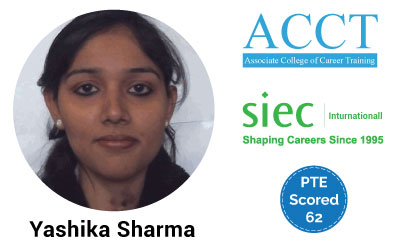 Hello, my name is Yashika Sharma, I was the student of ACCT (SIEC), as I took coaching for PTE. It was a great experience I scored 6.5 bands in each module. All the staff members are very helpful here. I thank every employee here for encouraging me and a very big thanks to the trainer here, who made efforts to make one learn all the strategies and tacts to pass the exam.
My name is Roopali Arora. I took coaching from ACCT for just 15 days and achieve my desired score in PTE. Listening 90, Reading 90, Speaking 90, Writing 88 and Overall 90. It was such a marvelous experience studying here from the best faculty in the city. I would like to thank ACCT for their effective guidance, motivation and cooperation during the study time. I would recommend all aspirants for PTE as well IELTS.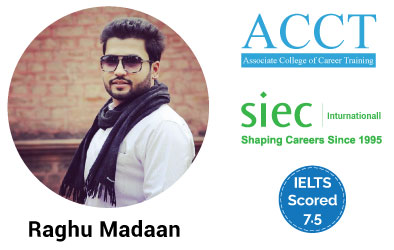 It has been a marvellous experience studying here as the staff is quite good and co-operating. I never felt as I am studying in an isolated culture. The way they teaches is just speechless. They make sure the candidate should understand the core and the tactic to solve the paper effectively and efficiently. Facing shorts of words, my ielts result speaks more about my experience than my pen. Fortunately, I got 7.5 bands in IELTS after coaching of just one month and this speaks all about the staff here. I would like to thank each and everyone here for bearing me for a month although am not that bad. I wish all good luck and success!! God Bless!!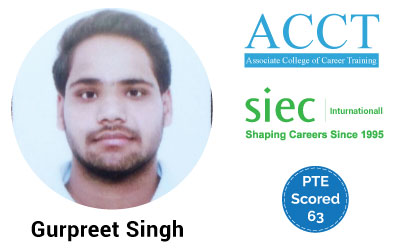 My name is Gurpreet Singh. I would like to share my success story with SIEC-ACCT. Like many others, I am also a person who is aspiring to get a good score for a student visa. All the staff of SIEC-ACCT is very co-operative and help every student in a very good way and more importantly with patience. I am very thankful to my teacher at SIEC-ACCT who motivated me a lot and prepare me for the exam. With the full assistance from SIEC-ACCT, I got overall scores 63/90 and most importantly, I got 85 in speaking which was like a dream come true.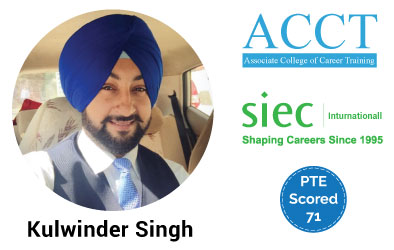 I am very greatful to each and every staff member of siec-acct about very particular guidance related to PTE. So much thankful to siec-acct, because they were so concerned for to clear PTE (with 7 each). I would like to thanks to siec-acct as well about motivation for me as often said that I can clear this test.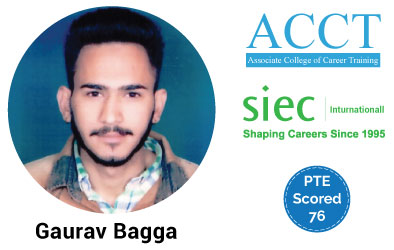 Hi my name is Gaurav Bagga, I took training for PTE from ACCT (SIEC). It was a great experience learning at this institute. I scored overall 76 in my academic exam, which is equivalent to 7.5 bands, I scored 90 in speaking (9 bands). The staff here is very much co-operative, I thank every employee in this institute for motivating me. Special thanks to Gursimran ma'am who was the one to make me learn all the strategies and tacts to attemp the exam. I am very much thankful to each and every person working in this institute.
/vc_column_text]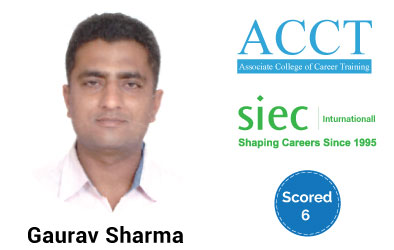 I Gaurav Sharma joined ACCT, an esteemed organization for IELTS Exam in 2016. By taking coaching from the best faculty and with their support I have achieved the required bands. It was a great experience studying under ACCT. I am very thankful to the whole ACCT team and especially the trainers.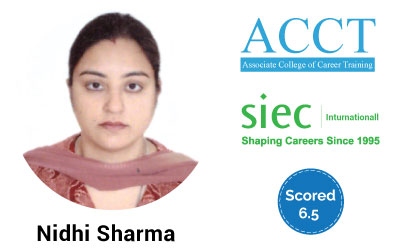 I Nidhi Sharma joined ACCT, an esteemed organization for IELTS Exam in 2016. By taking coaching from the best faculty and with their support I have achieved the required bands. It was a great experience studying under ACCT. I am very thankful to the whole ACCT team and especially the trainers.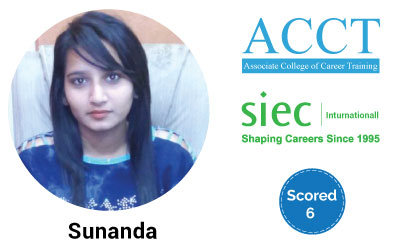 I am Sunanda. I have recently done my IELTS from ACCT. It was such a good experience of studying here. The way of teaching is good and teachers are very concerned about the scores of students. The best part of my experience was the time when my teacher gave extra time and attention to a particular topic. I came to know about very important things from this institute. It helped me very much and I will also recommend my friends to take coaching from this institute.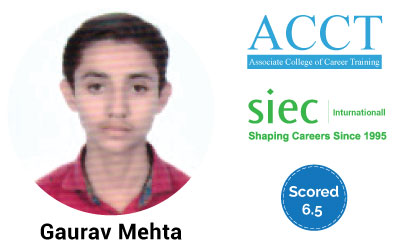 I Gaurav Mehta joined your esteemed organization for IELTS Exam in 2016. I had a great experience in ACCT institute. Staff here was quite helpful and friendly and also empowered students to inculcate new ideas and do better in their studies. Overall, I found this institute, a good place to enhance their English language skills.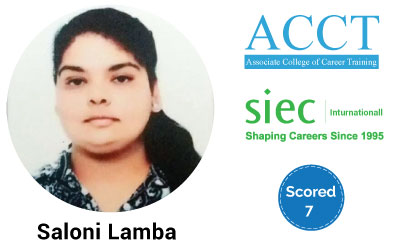 My experience in this institute has been great and I thank all the staff members for their contribution in my success. I achieved my IELTS bands as per my course requirements. All the staff members worked hard from the day I started my class to get good IELTS results. All others also deserve thanks from my side.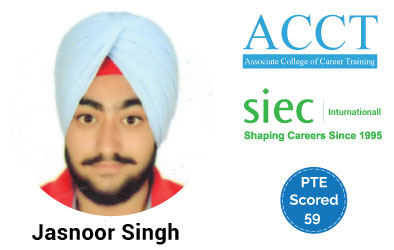 I had very good experience to learn here. My trainer worked very hard with me due to which I was able to score well in my PTE exam. I would suggest my friends to join ACCT – SIEC to achieve their dream score in PTE.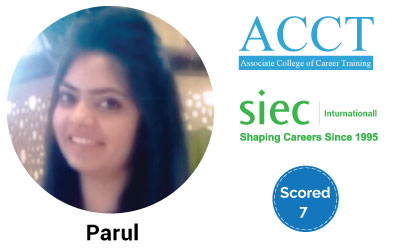 I had a great experience with ACCT institute. The staff of ACCT were quite helpful and friendly. That is the reason, why I scored 7 bands. Prepare handouts and other helpful materials are being provided by the teacher. Also, some activities are being held on weekly basis, which helped me a lot. Teachers focus on my weak points and helped me to cope up with them. Talking about my trainer Mrs. Surinder Mam, she is quite friendly. She used to access me by providing extra handouts, so that I can fetch good bands. Overall, I found this institute a good place to gain more about the English language.
Hi, I am Rahul from Ludhiana. I have done my IELTS from ACCT Ludhiana. My target was 6.5 bands, but I have attain 7 bands with the help and effort of ACCT team and trainer, I had got. Although my requirement was 6.5 but they trained me with the efforts of more than that so that I could attain better bands so I would recommend my friends to go with the ACCT team to build a better career and enhance their goals.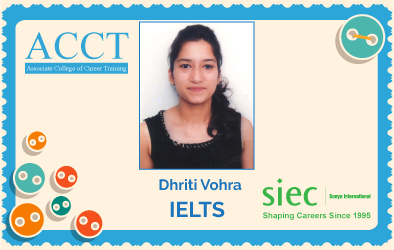 Talking about the trainers even they taught us in such a good manner that helped us to fetch such a wonderful IELTS score.
The attachements and bonds with the staff of SIEC and ACCT are just beyond comparison. The moments, the memories shared with all of them will be cherished always. thank you ACCT and SIEC for your effects contribution for sending me abroad.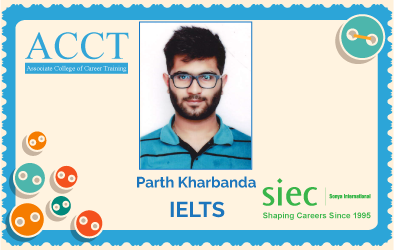 ACCT SIEC, the time spent here proved to be very productive as the training helped me score good bands. Moreover I made new friends and some amazing memories. Alongside studies, the activity time made a light hearted environment for more concentrated studies later. Better than any institute, I heard in the city.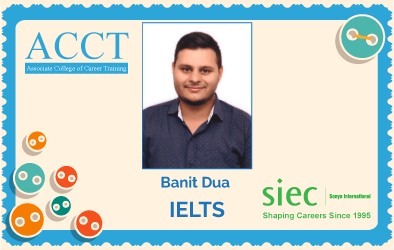 It was a great experience studying under ACCT. All the faculty members helped me in scoring good marks. I was given full guidance on my individual subjects. Teachers were very co-operative. They immediately reacted to me all of the queries. I too learnt various other things from an institute like how to be help others and how to deal with pressure. Overall, it was an amazing experience. I will be in touch with the faculty, staff whole of my life because teachers are like god and one should always home some respect for teachers.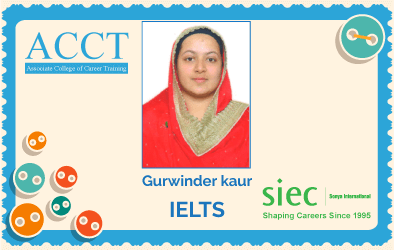 It was a great experience. During one month of training I gained confidence and all my hesitation and nervousness simply vanished. Thanks to my mentors, my respected teachers. They carefully listened to each of my queries and potentially explained me all the facts regarding the IELTS test and helped me in every way to gain/score good bands. I have heard about many institutes, but I choose this institute – SIEC because it's one of the best.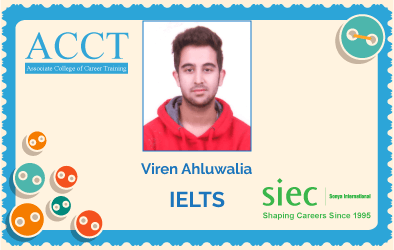 I had a very, very good experience with the institute. Studying here was fun as we never had any pressure about anything. I got good bands because the trainers here were very co-operative and helpful. The best part was, I got my visa in within a week. The activity days were crazy because we played many games like Truth and Dare. I will miss everyone very much because the memories were cool and attachment with everyone is unbreakable.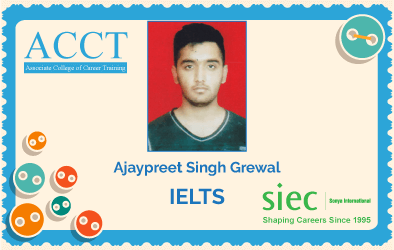 Very thankful to ACCT for providing the friendly environment. The time I spent here is unforgettable for me. I am very thankful to my teachers for wonderful teaching.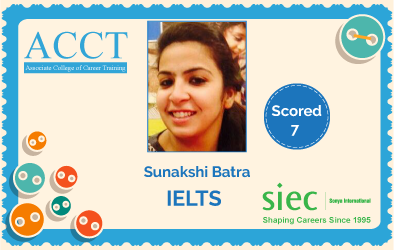 It was a good experience for training over here. The environment is very comfortable. They made us so comfortable here. We had a great fun. I gained confidence here and loved my experience here.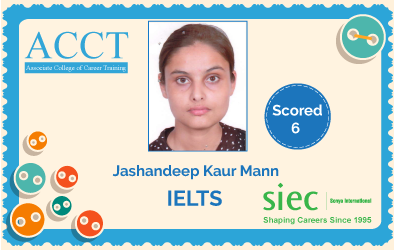 ACCT SIEC is a best institute according to me because I learnt a lot not only about studies, but also about other aspects of our life. I always did study there without any pressure and tension infect in a relaxed way. Now I got the good band score and visa also so, I am very happy today.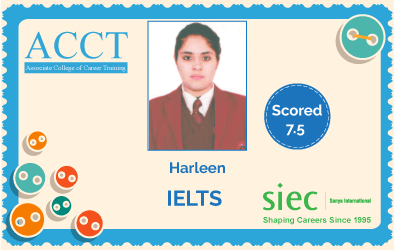 I am extremely thankful to the staff of ACCT for the hardwork and efforts that they put in so that I could achieve a good score in IELTS. It is due to their guidance, that I have achieved my target. The staff's focus on individual student and regular practice is applaudable. The coaching that I received here was truly great.