ACCT'S INDUSTRAIL VISIT
ACCT ORGANISES INDUSTRIAL VISITS FOR OUR STUDENTS EVERY ONCE TO TWICE A MONTH. THIS WEEK THE 2018 HOSPITALITY TEAM VISITED THE TAJ CHANDIGARH. HERE, THEY MET MR. KHUSHAGRA SHARMA WHO GAVE THEM A BROAD INSIGHT TO THE HOSPITALITY ENVIRONMENT. HE ALSO BRIEFED THE STUDENTS OF THE GROWTH IN THE INDUSTRY AND HOW A STUDENT CAN ATTAIN SUCCESS AFTER ACQUIRING AN INTERNATIONAL CERTIFIED PROGRAM BY HOLMES INSTITUTE AUSTRALIA WHICH IS OFFERED AT ACCT MALL ROAD LUDHIANA.
MANY STUDENTS AFTER BEING CERTIFIED FOR COMMERCIAL COOKERY AND PATISSERIE PROGRAMS FROM US ARE PLACED IN FIVE STAR PREMISES AS WE OFFER 100% PLACEMENT AND WE HAVE TIE-UPS WITH ALMOST EVERY FIVE STAR CHAIN OF HOTELS IN THE COUNTRY. MANY STUDENTS HAVE EVEN GOT THEIRVISAS WHO AFTER THIS COURSE APPLIED FOR FOREIGN EDUCATION IN THE SAME INDUSTRY. YOUNGSTERS/HOUSEWIVES CAN JOIN FOR HOBBY COOKING CLASSES AND OTER SHORT TERM COURSES AS WELL.
WE WISH ALL STUDENTS GET THIS OPPORTUNITY AND JOIN US TO EXCELL IN THE FIELD OF HOSPITALITY..!!!
FOR MORE QUIRIES CALL 9878815118.
Express Live Cooking with Chef Sudhanshu
On the 17th of September, ACCT-SIEC had organized a seminar on Hotel Management. Being a Sunday, we had a crowd of young boys and girls along with many home makers and young students who are already in the hotel industry itself. Since many years ACCT-SIEC has placed numerous successful students in the field of Hotel Management placed in the best of hotels around the country and even abroad as well.
The seminar started with a warm welcome by the staff which followed by a presentation given by our experienced chef Mr. Sudhanshu. The presentation comprised of all the details about what we offer to students in terms of theory and practical classes. The audience participated with great interest because they were amazed at  how a visa consultancy and test prep. institute manages such courses in an effective manner. The session was quite interactive with our guests. Later, the guests were headed towards the Master Kitchen and our Chef graciously cooked four types of pastas and a Choco lava cake.
1) Mac n Cheese pasta
2) Pasta Promo Doro
3) Herbs Pasta and
4) Penne-Veggie Pasta.
This was then followed by the baking of Choco Lava cake. All our guests over there recorded the entire event and even made notes of the recipes for the different types of pastas. Everyone feasted on the dishes and the topic of discussion was about the delicious recipes and everything about the courses. A great interest was shown by everyone who evidenced on that day. Cuisines being a booming industry now a days have drawn the attention of huge crowd. Overall the event was a great success.
Graduation Ceremony at ACCT
In-house Chef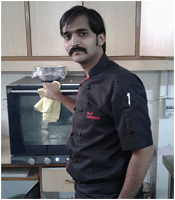 I am glad that I chose ACCT-SIEC that gave me a chance to serve for young Indians who aspire to become successful chefs one day.
Hello everyone! We would like to introduce you all to our very talented Kitchen King- Chef Sudhanshu and share his journey in the trending cooking profession. Cooking is one of the most familiar activities of women and for a change of men too. Be it a hobby or a routine chore but cooking is something that just cannot be ignored. Chef Sudhanshu chose this profession as he was passionate towards cooking and innovating new dishes in his kitchen. Graduated from Punjab Agriculture University 2010, Chef Sudhanshu was selected by PRIDE Ahmedabad for an Industrial Training and Hotel Operation Training with its specialization in Continental Cuisine. Later he was entitled as an International Chef by World Class Carnival Cruise Line. This marked the beginning of his journey and till 2014 he had already explored more than 30 countries and gathered the experience of world-class chefs specialized in Continental Cuisine, Baking and Beverages. Though he was granted the Green Card in 2013 for USA but his love for the Birthplace didn't fade. Hence, he decided to continue in India only and started as an Assistant Lecturer in COMS-College of Management Science in the Food and Beverage Department.
The turning point of his life came when he received 2 offers simultaneously; One from Germany to take charge of 26 countries as an F/B Manager and the other from ACCT-SIEC. And of-course he chose ACCT-SIEC with which he is proud to work with and vice-versa. Chef Sudhanshu says," I am glad that I chose ACCT-SIEC that gave me a chance to serve for young Indians who aspire to become successful chefs one day. Above was Chef Sudhanshu's experience and now let's talk about how SIEC could help you become your dream person.The ACCT-SIEC Hotel Management Course is certified by Holmes Institute Australia and throughout this journey we have initiated tie-ups with almost every 5-star Hotel Existing in India and abroad as well. The best feature is 100% job placements. ACCT-SIEC admits students of almost every sort and trains them to become their dream Chef. The focus remains on maintaining the practicality of lessons so that we create professionals and not just graduates. Another noteworthy feature of Hotel Management Course here is complementary services that are provided like Free IELTS, PTE, and SPOKEN ENGLISH & GRAMMER to improve the communication skills as well because communication is a key component of HM.So, what are you waiting for? HURRY!! Enroll yourself in the race of becoming an Internationally Recognized Chef.
ACCT-SIEC offers
1 year Diploma in Commercial Cookery.
6 months' course in Bakery.
Weekend Hobby classes for Housewives and Students.