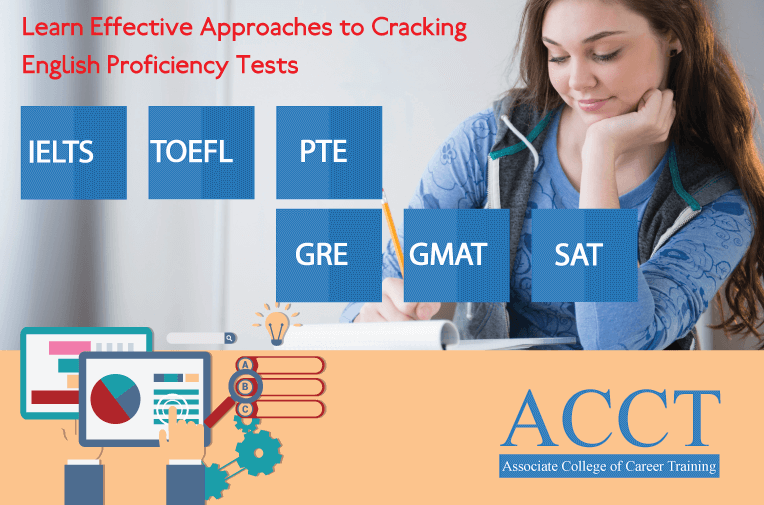 Why Choose ACCT ?
Associate College of Career Training (ACCT) can trace its journey back to 2009. At the time when aspirants of overseas education were groping in the dark, ACCT, a not for profit institute, relentlessly offered its guidance and support to students, in terms of not only counseling and admission processing, but also with its comprehensive test preparation modules. Soon after, owing to its result oriented approach, ACCT firmly established itself as one of the top rated academies for international education services and has set up delivery nodes in New Delhi, Ludhiana, Chandigarh, Hyderabad and Pune.
Our Mission
Deliverance
Excellence
Commitment
Integrity
IELTS
IELTS, the International English Language Testing System, is designed to assess the language ability of candidates who need to study or work where English is the language of communication. IELTS is recognised by universities and employers in many countries, including Australia, Canada, New Zealand, the UK and the USA.
TOEFL
TOEFL, Test of English as Foreign Language test purpose is to evaluate the English proficiency of people who are non-native English speakers. In addition, scholarship programs, and recruitment agencies use TOEFL scores to evaluate English proficiency. The test has 4 sections: Listening, Speaking, Reading, Writing.
PTE
PTE, Pearson Tests of English is a computer-based academic English language test aimed at non-native English speakers wanting to study abroad. It tests Reading, Writing, Listening, Speaking, written paper and an interview.
GRE
The Graduate Record Examination (GRE) is a computer- or paper-based test that is used to evaluate graduate school applicants. The GRE presumes a fluency in the English language, and contains sections in Verbal Reasoning, Quantitative Reasoning, and Analytical Writing ability. The GMAT has three different sections: Essays, Quantitative, and Verbal.
GMAT
The Graduate Management Admissions Test is a standardized test that many English-speaking business schools require applicants to take. The GMAT has three different sections: Essays, Quantitative, and Verbal.
SAT
SAT, Scholastic Aptitude Test is a general test of verbal and quantitative reasoning accepted for U. S. college admissions. The test is required for admission to undergraduate programs of most US universities. Many universities also require you to take SAT-II tests.
By taking coaching from the best faculty and with their support I have achieved the required bands. It was a great experience studying under ACCT.
I have recently done my IELTS from ACCT. It was such a good experience of studying here. The way of teaching is good and teachers are very concerned about the scores of students.
I had a great experience in ACCT institute. Overall, I found this institute, a good place to enhance their English language skills.
My experience in this institute has been great and I thank all the staff members for their contribution in my success.
I had very good experience to learn here. My trainer worked very hard with me due to which I was able to score well in my PTE exam.
I had a great experience with ACCT institute. The staff of ACCT were quite helpful and friendly. That is the reason, why I scored 7 bands.
I am extremely thankful to the staff of ACCT for the hardwork and efforts that they put in so that I could achieve a good score in IELTS.
ACCT SIEC is a best institute according to me because I got the good band score and visa also so, I am very happy.
It was a good experience for training over here. The environment is very comfortable. I gained confidence here and loved my experience here.
I am very thankful to my teachers for wonderful teaching. The time I spent here is unforgettable for me.
I had a very, very good experience with the institute. I got good bands because the trainers here were very co-operative and helpful. The best part was, I got my visa in within a week.
It was a great experience. During one month of training I gained confidence and all my hesitation and nervousness simply vanished. Thanks to team ACCT.
It was a great experience studying under ACCT. All the faculty members helped me in scoring good marks.
The time spent here proved to be very productive as the training helped me score good bands.
Thanks to ACCT for guiding me and shaping my English language skills. My IELTS test was pretty good and i achieved 7.5 bands overall! All the credit Goes to ACCT…
ACCT is a very good institute for scoring high in IELTS. Its a good experience for me that I have scored overall 7.5. My experience at ACCT was very memorable….
Great experience with ACCT. I hope they continue doing the good work and help students in their career and fulfilling their goals…:)
A friend of mine introduced me to ACCT and I just thought of joining in. Well it was a very right decision I must say. I scored 7.5 bands, all thanks to ACCT. One of the best institutes for IELTS preparation in Ludhiana.
I have done my IELTS from ACCT Ludhiana. My target was 6.5 bands, but I have attain 7 bands with the help and effort of ACCT team and trainer.